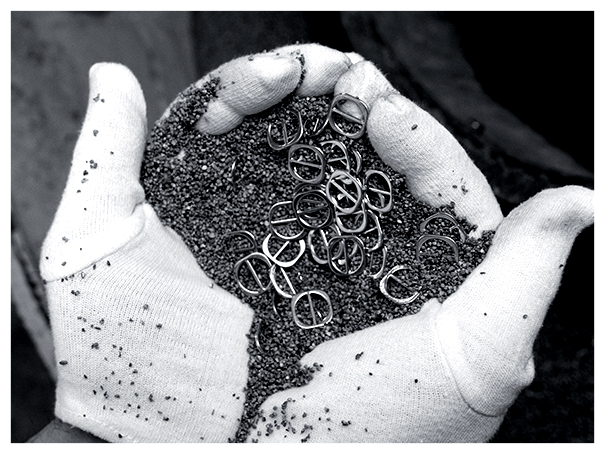 EAC constantly makes its know-how available to its customers.
Responsiveness and creativity are the keys to success today.
cao / dao software
EAC's design office consists of three graphic designers and one 3D process technician. Everything starts from a design idea, a vision and becomes an artistic drawing. Our integrated software allows us to switch from technical drawing to our digital protoyping machine. These, with the 3D printers, are the key to project design and execution of complex projects. They allow us to create the designs by integrating our constraints, linking the different industrial processes that we will implement for the serial production of your parts. The interface is easy to use and has a multitude of options unlike other drawing software. The internal control of the different entities of the allows us to create jewellery in 10 working days.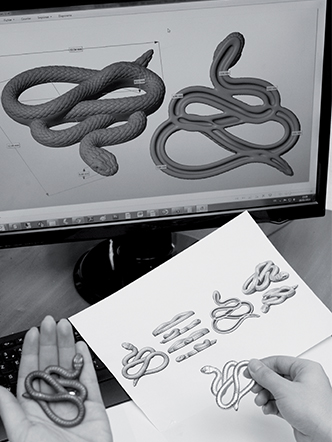 prototyping
and production
It is in our jewellery workshop that we put the know-how of our teams at your disposal. A controlled prototyping machine is used to make the master parts in brass. Then its transformation into a personalised jewel begins. All the details are considered in creating true value ! We then move on to industrial manufacturing of the part in zamak. Mould making is key to a quality injection and faithful reproduction. The zamak, a zinc alloy, is injected at 500°C into our moulds; the parts come out raw and will be taken apart manually, one at a time. We control the processes for chemical cutting on brass, metal laser cutting, cold and hot stamping, as well as the lost wax.
polishing
Our polishing department is composed of different types of machines. These allow an efficient and effective tribofinishing, in order to make the smoothest and brightest parts possible for a successful surface treatment.
Different types of ceramics, natural materials and metal balls are used according to the type of the part and the final aspect required. Working with our teams, we decide which polishing range is best suited to your needs, according to the type of your parts and the required finish. 8 technicians polish your parts by hand, guaranteeing a perfect finish!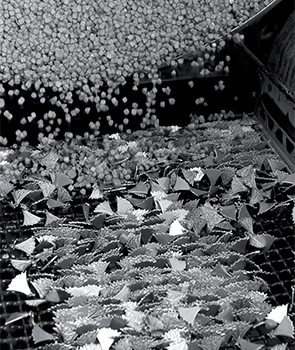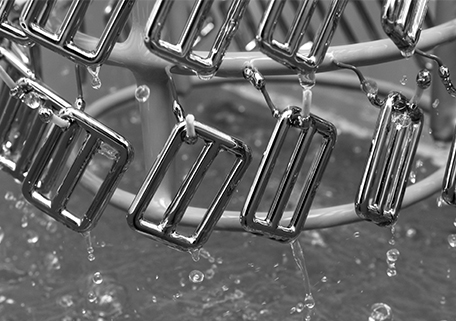 treatment
of surface
It begins with a perfect mastery of chemistry: Our integrated laboratory makes it possible to monitor the exact chemical configuration of our electroplating baths.
The development of different colours is also part of our skillset. A specific preparation before electroplating may be necessary for some manually polished parts. Sometimes, ultrasound treatment may be a suitable alternative. Our initial quality control is carried out during the assembly of the parts before the surface treatment, then a second one after electroplating, during the setup of the tray ready for the consignment. Our factory has a closed circuit for the purification of the water, which means there is zero discharge. We also offer a varnish electrolytic cataphoresis in translucent and black colours.
assembly
Our production unit undertakes enamelling, delicate and precise welding, gluing of rhinestones, sewing and various assemblies to give the final touch to your metal ornaments. The know-how of the jeweller is essential for complex assemblies. Gluing rhinestones requires precision and dexterity in order to combine quality and precision with industrial assembly. This enables you to energise and create colour in your metal ornament projects.